Offer a complete range of drylining, commercial decorating and suspended ceiling services across Eastleigh.
We have years of experience and skill to offer and can also provide our advice and support.
We are equipped to tackle projects and tasks of all sizes, both residential and commercial. We have designed our range of services to be highly competitive without compromising on quality. At CC Drylining, we take pride in the work we do and believe that this can be seen in the results we deliver.
As a team, we understand that the drylining stage in a project is important and can have an effect on the next steps if not done correctly. That is why our experts work with a courteous, efficient and focused approach; ensuring that our work is completed on time and within budget. Our specialists use proven methods and techniques as well as trusted materials and supplies from leading manufacturers.
We can provide our drylining Eastleigh for new build properties as well as repairs and damages. Whether we're working on a newly built wall or an existing damaged wall, we are confident in our ability to achieve excellent results.
The CC Drylining Eastleigh team have years of experience within the trade and a wealth of knowledge. Whether you require drylining services for a residential property, office, commercial property or retail space. Drylining is a great alternative to traditional blockwork and wet plaster. It is also ideal for any interior wall that does not need to be plastered.
Commercial Decorating Eastleigh
Decorating a commercial space can be a challenging task. There are a number of factors to consider, including the company's branding, the type of customer that will be using the space, and the overall atmosphere that you want to create. However, with careful planning and a bit of creativity, our professionals create a commercial space that is both stylish and functional.
Suspended Ceilings Eastleigh
A suspended ceiling is a type of ceiling that consists of a metal grid that is suspended from the ceiling beams. Tiles or panels are then hung from the grid to create a finished ceiling surface. Suspended ceilings are commonly used in commercial and industrial buildings, but they can also be found in some homes.
There are several advantages to using suspended ceilings Eastleigh. First, they are relatively easy to install, and they can be used to cover up existing damage to the ceiling. Second, suspended ceilings can help to reduce noise levels by absorbing sound waves. Finally, suspended ceilings can provide thermal insulation, making them an energy-efficient choice for many buildings.
To find out more about our services, get in touch with our experts today!
CC Drylining can be relied on for any drylining Eastleigh, commercial decorating and suspended ceilings. We can provide expert advice and support based on your exact project requirements. Our team can offer free quotations and arrange an appointment for a time and day that suits you.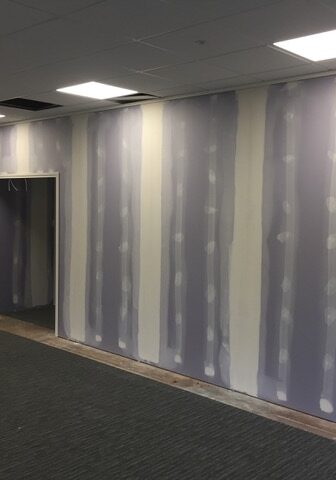 Call us on 01202 402 184 for expert advice and a free quote.